Manpower, CONTINUED:
Sunday, March 14:
Trent: It was getting late and I wanted to get back to camp before it got dark. I waited for Chaz to fiddle with his shoes and then fiddle with his pack. I didn't want to just leave him but I wonder if he realized that he was risking us having to walk down in the dark. We finally ended up descending to camp ourselves rather than waiting for Andy, Zack and Devin. I wonder if they were pissed that we didn't wait? Soon it was clear that we were lost. It was a little bit of a scary feeling, but we knew we couldn't be more than an hour from our camp. It was cold as soon as we stopped! Chaz was shivering and ended up spooning against me for warmth. I was not thrilled about it but "you got to do what you got to do". Then it started raining. …I think I slept a lot better than Chaz. I suggested he wrap his legs with our Bluewater double ropes. It took half and hour in the morning to get all the knots out.
Chaz: An amazing day on washer woman and monster, and a long, fucking cold night pretty much sums up day 2.
Two towers in the bag. Heading out from the Monster group to Monument Basin.
Trent and Chaz stumbled back to camp the next morning, just as the rest of us were gearing up for a rescue mission. They were tired and ragged-looking, but after hearing their story, our tension gave way to laughter, and with two towers already down, we decided to take an easy biking day and plan for the next climb, of Standing Rock, a 320-foot flute of layer-caked rock jutting from Monument Basin, 15 miles away. The climb was described in an old guidebook as "the most serious and dangerous route in the desert."
Nuts.
Monday, March 15:
Chaz: A pretty chill ride to Monument Basin and some resting under the shade of a juniper helped speed a recovery for the next day's ascent of Standing Rock, which will hopefully not topple over by morning.
Trent: Standing Rock looks like it's tipping over a little. I think we were all a little intimidated by how narrow it looked. Chaz and I took a nice nap while everyone else hiked in to check out the tower.
Standing Rock, just barely.
Zack: Tomorrow is the climbing day that tackles the tower. 4 pitches: 10b/c, 10d, 11c, 7. Lots of work and I'm trying to get my head together. I'm not concerned about act of doing the pitches; it just looks so sketchy from here. The tower looks like it could tip over at any strong breeze.. I'm sure it won't seem so thin and shaky when I'm 2 feet away from it. The desert is so beautiful!
Halfway through our trip, we were using more food and water than we had planned. We'd soon have to face some tough decisions about our style. During the next few days, the stress of climbing, biking and staying self-contained would test us.
Sunrise at Monument Basin.
Tuesday March 16:
Zack: Gorgeous sunrise! An awe inspiring walk across the basin floor to the Standing Rock. One of the most eye catching, intimidating things I've ever climbed. Sketchy, and at 5.11c, harder than anything I'd done in the desert.
Desert Rack.
Devin: Climbing Standing Rock went off without a hitch. As usual, Zack and Trent made it look easy and kicked ass on a lead that would have scared the shit out of me. Tomorrow will be a long, hard biking day, about 27 miles. Water is becoming somewhat of an issue.
Left: Trent leading Devin up the first pitch of Standing Rock. Right: Pitch 2
Zack: We're down to two gallons of water a piece so it must be getting close to time to go home. I have one more tower to climb and lots of gnarly uphills to bike, but I know the end is within reach. Today was the roughest biking day so far. A lot of uphill pushing. These cadis flies and mayflies are about to cover me up.
Chaz resting after the last hill of the day
That afternoon we headed a few miles down the trail for another campsite. We had some gnarly climbs, and had to team up to push eachothers' bikes up the last hill. The riding was getting really hard and we had a day's worth of water left.
Miles to go. Headed down to the Green River on the longest biking day of the trip
The next day was a huge amount of biking, and as we neared the Green River, our only hope for water, we hit sandy sections you could barely walk, much less ride. I hung back a little, partly to take photos and partly because I was whupped. Chaz, being the strongest biker, was constantly offering to take gear from each of us to lighten the load, and always seemed to have an extra Snickers bar in a hidden pocket. As I crested the final hill to the river, I was astonished to see Trent filling two empty jugs with fresh water from a woman in a Jeep.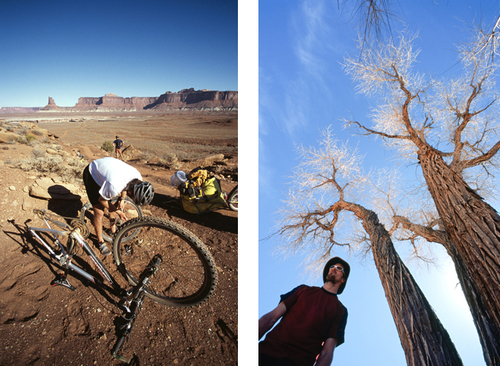 Left: Chaz on mechanical duty. Right: Zack under some rare shade near the Green River
Wednesday March 17:
Chaz: 10 miles of rolling downhill along the White Rim past Candlestick Tower brought us to the banks of the Green River. A casual lunch of peanut butter and tortillas followed by rest in the shade of a Cottonwood.
Trent: Some lady offered us water and I let her fill up one of my 2 gallon jugs. Then everyone else reminded me that we were self contained. I felt stupid. We then filled up some jugs of water with river water. Zack and Chaz swam in the river for a while. I really wanted to get as far as possible into Taylor before dark but I didn't feel like telling them not to swim. We started biking into Taylor Canyon towards Moses and encountered a lot of sand. Zack finally protested and said it was a waste to keep going all the way into the canyon. He said he had looked at the map and since it was relatively flat, it was going to be deep sand the whole way. We camped in the wash and made plans for an early hike and then climb. I sensed a little tension in the group. Zack explained how he knew the shit would hit the fan and how he was ready for it. Zack decided he would get up at 3:30am and hike the remaining 5 miles into Moses. … I didn't say anything.
Chaz wading into Green.
Zack: To think we climbed Standing Rock yesterday morning is sick. It seems more like a week ago! I'm tired and hungry. I'm down to less than half a gallon of water with two days left. We got water from the Green River today but it's murky and kinda sketch. Tomorrow we climb Moses, the last tower on the list. The approach is 6 miles off the main trail. We stopped, bivyed, and will wake up at 3:30am. The whole trip culminates tomorrow. Today was the first sign of difficulties. Team dynamic becomes apparent and very visible. I believe now is go time. Buckle down, do the deal, whatever it takes. Climb Moses and get the hell out of here self-contained, under Man Power!
3:30 AM, Moses.
Thursday March 18:
I was personally pretty cashed and I knew this day would be a killer. We thought we could bike the 6 mile approach from camp, but it was all soft sand, so it turned into a 12 mile round trip hike. Pretty much out of food, and with the last water supply at camp, we had to decide whether to camp another night after the climbing, or gun for the trailhead on the canyon rim, a full days worth of biking away and uphill the whole way.
To try and speed things up, I decided not to join the team on the climb. I explored the area and photographed while everyone else tagged the summit. It was a beautiful day, but part of me regrets that decision.
Looking back 6 miles toward camp from the base of the first pitch of Moses.
Trent at the base of Moses, and Primrose Dihedrals (5.11d), Pitch 1
Trent: We got up and hiked in to Moses. It was still very dark and cold. Chaz seemed extremely tired. He would take twice as long as me to follow the pitches. I felt bad and tried to console him even though I knew time was of the essence on the trip.
We took some cool photos on the summit and began rapping down the north face. We then began hiking back to our camp in the wash. It was getting extremely hot. We sat under one of the tarps and rested. Zack proposed the idea of biking all the way back to the truck and driving home. The map came out once again. I believe there was way too much map analysis. We made dinner and boiled water. I wanted to bivy but Zack and Andy were jacked on coffee and wanted to keep riding. A vote was taken and Chaz was the deciding vote to go all the way back to the truck. I was a little amazed after all the climbs we did together and how much he had slowed me down. I guess my emotion boiled up and I said "thanks a lot Chaz". He freaked out a little because he has this need to make everyone happy. He then said he wanted to camp at the top of the hill as a compromise. I could feel the tension between everyone.
Midday, back at camp.
After some grueling but mercifully hard-packed biking, we gained mesa at 9:30pm. The next morning at the rim we were elated. Though we had no breakfast and just a few sips of water left, everyone looked forward to a casual few hours of flat biking to the car. That's when most of the journal entries, and the photos, stopped.
Psyched! Devin on the morning of day 7.
Friday March 19 :
Andy: We suffered today. Out of water. We rode on seemingly endless hard pack, up and down hills, across a barren landscape, constantly stopping to examine the map, in hopes that we were getting to a shortcut that led to pavement. At the shortcut, I was bonking, so was Zack. I asked if anyone had food left. Chaz miraculously produced several Clif Bars, chocolate bars and a precious Snickers, which Zack and I devoured. Taking the last swig from my bottle, I felt at least able to go the 3 miles or so in the growing heat until pavement. The shortcut was twisty and sandy. Lots of walking, and silent resting under the paltry Juniper trees here and there.
I sucked my tea bag dry, which I had brewed last night in river water. The group was spread out. I saw what I am fairly certain were mountain lion tracks over the fresh bike tracks ahead of me on the trail. I thought about how the pride seeks out the weakest member of their prey, the lame one lagging behind. I increased my pace, but I had no more hammer left. I had kept a strong pace on the switchbacks last night, full of hype, but now as I realized that today would be at least as grueling as the last six, I was demoralized. I felt strangely sleepy and found myself thinking about how cool the sand might be to curl up into. How long would they go ahead before they turned back for me? Would they find me devoured by lions? Not such a bad way to go, I remember thinking…
And then we were at the road! No elation yet, we still had miles to go, but I found extra strength, my tongue swelling, stomach in knots, legs jello, brain pudding. I stupidly tried to shift my gears lower and lower, even though I was walking the bike.
Finally in the distance: the entrance station! I was so happy. We had put together this crazy project and here we were, finished!
Done, Donner, Donnest.
We descended like locusts on the nearest convenience store, hungry, tired and elated. On the way out, passing the train of jeeps and trucks laden with bicycles and gear queued up for the Trail, we felt we had accomplished something truly special. By being bold in our objectives and committing ourselves to a principle, we had climbed a proud desert-rat's tick-list, biked a fat-tire dream ride, and spent six nights under the stars of the southwest desert, all in one trip.
To propel oneself slowly across the still-awesome American wilderness is a profound joy. The window of opportunity for this kind of adventure in our public backyard is still open to anyone, yet it dims and sags with time, neglect, and the "march of empire." Once that window is closed, we may gaze through it and remember, but it will be closed forever.