Thanks to NikonRumors.com for featuring my motion work with the Nikon D3.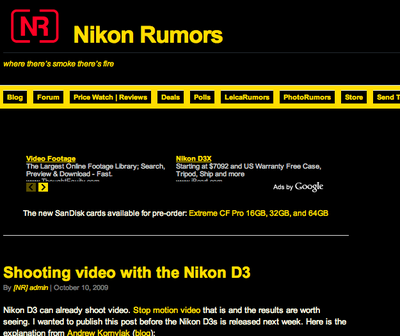 I thought it was fun to point out what could be done with existing caveman technology, coming on the heels of an announcement about the new Nikon D3s, which supposedly adds video capabilities…
Besides being an extremely popular site for – what else – obsessing over the latest rumors about new Nikon products (and Leica stuff), it's also a fun place to see what's going on in the photo world in general.
Speaking of which, I'll be giving a workshop about mixed media production for photographers at the
Atlanta Photojournalism Seminar
in December. I'll be doing a walkthrough of the stillmotion workflow on the D3, and maybe the new D3s if I can get one in my hands by then.