The Roadless Rule was a Clinton-era gift to wilderness adventure put in place in 2001. The policy protects 58 million acres of federal land from road building. It was effectively rendered null when the Bush administration left it up to each state to draft their own Rule. For nearly a decade, the status of this policy remained in the limbo of the Courts. President Obama expressed his administration's support for a federal Rule, but there are many conflicts to resolve, and policing the federal timber inventory is not exactly high on the agenda these days.
In April 2004, I photographed four friends on a unique little adventure in Canyonlands, Utah. The goal was to free climb four classic desert towers over 7 days along the remote, 100-mile White Rim Trail. The real challenge? To do the whole thing self-contained, by human power alone. This trip is a celebration of the kind of adventure you can have by leaving the car behind for a little while.
"Manpower" is a story of this adventure I wrote and re-wrote over the years, and it's never been published in its entirety. I had asked everyone to keep a journal and with their permission included their personal thoughts in the story. It's a little long for a blog entry, but I think I'm going to try something new here and post it as a two-part serial.
Enjoy and feel free to share this content.
Manpower, Part 1:
The 600-foot twin sandstone towers of Monster (left) and Washerwoman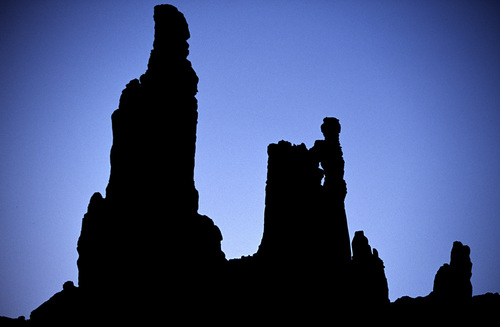 Rain drops sent up puffs of dust around me as I burrowed deeper into my bivy sack. I clicked on my headlamp and looked at my watch: 10:30pm. Clouds had begun to obscure the stars and moon a couple hours ago when Zack, Devon and I were still finding our way out of the canyon. Our two friends Trent and Chaz had left before us, and we expected to arrive at our campsite to blazing stoves and bright tents. Instead it was dark and silent when we stumbled into camp. The cliff-lined amphitheater surrounding us was treacherous in the dark, booby-trapped with loose ledges, and direction-robbing side canyons. You could easily run out of light and get lost out there, or worse. Tired and hungry after a full day climbing, we cooked dinner, hollering into the dark. We finally made the decision to stay put until morning, and to send out a search party at first light.
I couldn't sleep, feeling that familiar buzz from another night out in the wild. Days away from any road, service, or even water, we were committed to the landscape. We were also committed to an idea: to travel through this landscape on human power alone, in one of the few places left in America that you could still die trying to find your way out of: the desert Southwest.
Chaz, keeping Utah wild. The start of the 100-mile White Rim Trail is visible in the canyon below.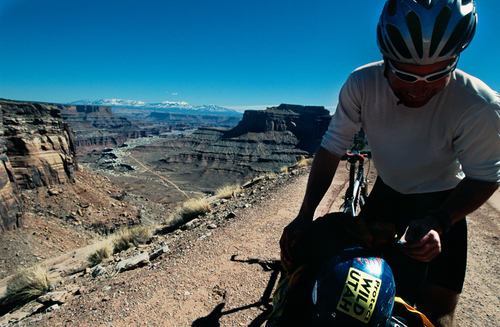 At the start of the 21st century there were more automobiles per American household than licensed drivers, and a well-planned, well-maintained system of highways covered the nation. In 1925, seeing the first mass-produced autos coming off the line, naturalist Aldo Leopold wrote, "The time is almost upon us when a pack-train must wind its way up a graveled highway and turn its bell-mare in the pasture of a summer hotel. When that day comes, the pack-train will be dead, the diamond hitch will be merely rope, ... and thenceforth the march of empire will be a matter of gasoline and four wheel brakes." A century later, the march goes on. Even the "graveled highway" of Leopold's time would seem quaint and primitive if encountered today.
The idea that some public land should be protected from mechanized development was in its infancy in Leopold's time. The invasion of the automobile and paved road into the American landscape added urgency to this movement. Arthur Carhart first officially used the term "wilderness" in 1920 to designate Trappers Lake in the White River National Forest in Colorado as forever "roadless." The effort to officially protect land from development was further championed by Leopold. Since humans cause destruction of the land, he reasoned, humans ought to be responsible for protecting and preserving it. The New Mexico forester was one of the first to voice a purely ethical argument for preserving wilderness, one that remained unpopular until much later.
Roadless. Canyonlands, Utah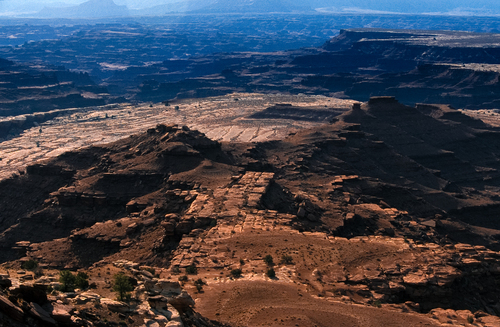 Decades of movement toward preservation of America's last wild lands culminated in 1964, when Congress passed the Wilderness Protection Act. Though wilderness was defined as "an area where the earth and its community of life are untrammeled by man, where man himself is a visitor who does not remain," it also sought to preserve "outstanding opportunities for solitude and unconfined and primitive type of recreation." This new 105-million-acre primitive playground was not open to all however. Mountain biking, unheard-of in the '60s, but now the pursuit of an estimated 35 million Americans, is a prohibited activity in Wilderness Areas. Though knobby tires, when used responsibly, cause no more harm than foot or hoof, the mountain bike fell under the same "vehicle" category as off road vehicles and snowmobiles.
2001 was a good year for pedal-pushers. That year, the Forest Service issued the Roadless Area Conservation Rule in the last days of the Clinton Administration, putting nearly 60 million acres of National Forest land under protection from most logging and road-building. Unlike Wilderness Areas, Roadless Areas would allow mountain biking. For proponents of man-powered recreation, as well as conservationists, it was a huge victory. But the party didn't last long. In the wake of a half-dozen lawsuits by states refusing to follow Federal mandate, George W. Bush suspended the Rule immediately upon taking office. On July 12 of this year, the Forest Service officially overturned the Rule, throwing up its hands and leaving designation of roadless-ness as an issue to be lost in state bureaucracies. Those who choose to shun "gasoline and four wheel brakes" in favor of self-propelled forays into the wild can only hope their governor feels the same way.
Shrinking Wilderness. Green River, Canyonlands.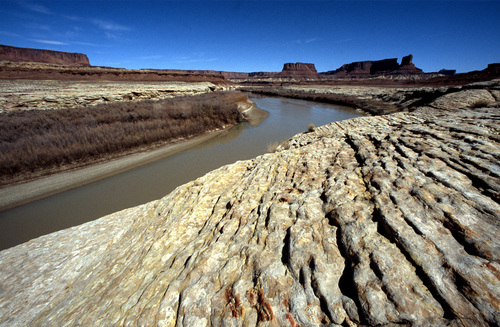 "Wilderness," said Leopold, "is a resource which can shrink but not grow." But there are areas of land that can be reclaimed, where roads can be closed to motorized vehicles, de-emphasizing the imprint of man and encouraging a return to Leopold's classical definition of wilderness. These reclaimed roads could still provide a way to get deep into the backcountry, while still providing a wilderness experience. In the deserts of the Southwest, many roads that were built for mining or other resource exploration have been long abandoned or designated for recreational use as jeep trails.
The Colorado and Green Rivers carve a torturous path through Utah's Canyonlands National Park, eventually joining near the southern border. Between them has formed an immense arrowhead-shaped mesa called Island in the Sky. The White Rim Trail, built by the Atomic Energy Commission in the 1950s in a vain search for uranium, follows the outer rim of this mesa, encircling a rugged "middle world" of sandstone towers, walls and canyons. The Trail is popular with four-wheel drive enthusiasts, and with local outfitters, who use off-road vehicles (ORVs) to support multi-day mountain-biking trips into the park. With modern biking equipment and some smarts though, many of these roads can be traveled by manpower alone.
The Manpower Team (left to right): Devin, Trent, Chaz, and Zack, racking up in Salt Lake City, UT.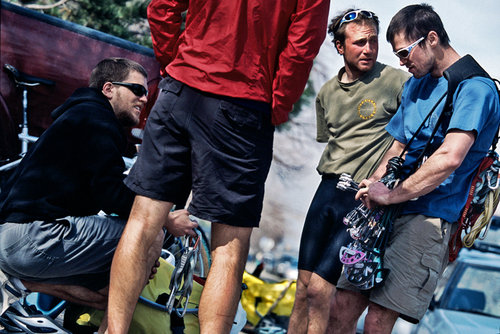 My old friend Trent Baker, an intense multi sport athlete and lawyer in Salt Lake, wanted to apply this ethic to this most quintessential American wilderness. His idea: we would free climb four major towers in Canyonlands in a single push. The climbing would be tough, but the main difficulty would be the style: self-contained, with no motorized vehicles on the trail itself. We would propel ourselves using only manpower, traveling by foot and mountain bike. With little access to water, foot travelers rarely spend one night out in this rugged backcountry, and most cyclists do so only with the support of an ORV. By embracing this style, Trent reasoned, we could set a precedent for low-impact travel in a wild area heavily burdened by motorized use, while at the same time reaching ever greater levels of adventure. Our four climbing objectives, Monster, Washerwoman, Standing Rock and Moses, are all located near the White Rim Trail, and it seemed barely possible to access all four by mountain bike.
Giving water to the desert outside Moab, Utah.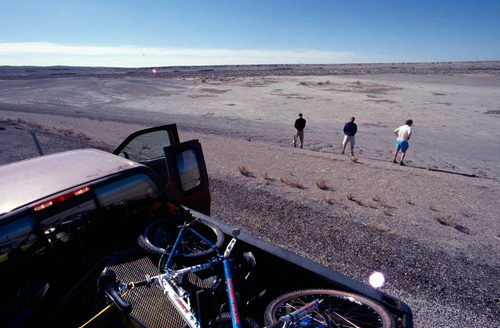 Trent had enlisted two friends from Salt Lake. Chaz, an MD/PhD student, climber and expert mountain biker, was Trent's partner on past climbs. He would be the bike "leader" and would also serve as the trip medic. His friend Devin, another climber and mountain biker, was added later to help distribute the loads. I would be along to photograph the adventure, and Zack, an ace free climber from Atlanta, joined me. This would ensure two strong climbing teams of two and a fifth as backup. Months of planning followed; email planning sessions, gear testing, training and securing travel plans had us all eager to leave our worlds behind and head for the desert.
Best best place for a dirt sandwich in all of Canyonlands. Chaz heading downtown.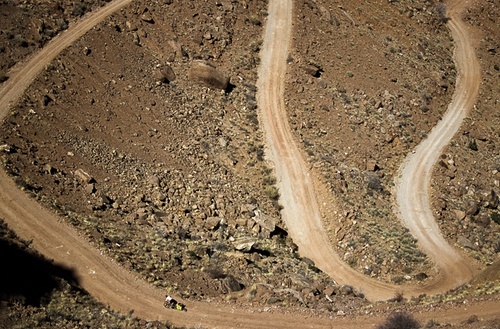 The first two days of our trip were eye-openers. I had barely touched dirt when I got the first flat tire of the day, less than a mile from the truck. Our bike guru Chaz fixed it quickly, but both Trent and Zack had flats within the next 5 miles, perhaps owing to the heat on the wheel rims as we descended thousands of feet of steep switchbacks down to the Colorado River. We each pulled nearly 80 pounds of food, water and gear, and our overloaded bike trailers threatened to torque us right off the edge of the dizzying road.
Zack, Trent and Chaz all wrecked multiple times, their rigs bucking like wild animals over the bumps before taking them down. In those couple hours, the trailers with their bright yellow dry bags earned the nickname "squirrel". By the time we finally arrived at our first campsite, we were tired, but eagerly anticipating the day of climbing ahead.
Stop. Think.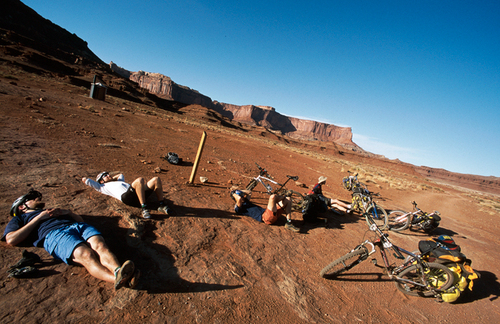 We each kept a journal of our trip, and everyone agreed later to share our entries for this story.
Saturday, March 13:
Trent: We stocked up on fresh bagels on the way out of town. Strange people hanging out in the bagelry at 6am, I guess they probably thought we looked strange as well, decked out in technical fabrics and matching sunglasses. Everyone seems psyche. Zack seems like a nice guy. I am not sure whether Andy wants to climb or take pictures. Devin seems to be very interested in the exact mileage and altitude details. We stopped at the visitor center to get our permits. Andy said the Ranger girls thought we were "hard core" for biking the White Rim self-contained. He didn't even mention that we were also climbing 4 towers.
Chaz: Three bike mechanicals in the first 3 miles had me a bit worried, but no problems for the next 12. Hope I brought enough tubes. I thought it was pretty sweet that the whole group was talking environmental issues and politics on the ride down. Group dynamics seem to be working well; this was my main concern for the trip. My other concern is someone's bike having a major mechanical problem and my ass being on the line for it.
Devin: I'm really excited to have such good climbers along. The climbs seem a bit intimidating but desert towers wouldn't be much fun if not a little scary at least. Aside from the slightly sore ass from the saddle, the start of the trip has been great. It's not going to be any kind of cake-walk but the challenge is what it's all about.
Zack: The first day comes to a close. Everyone is off to bed and the uninterrupted evening sky is new overhead! It feels good to lie down. The team seems to be in good spirits; lots of laughing and joking, but still a sense of business. The bike moves well and the trailers are better than I had expected after the trial ride in Salt Lake City. Tomorrow we climb and I'm happy to not be getting on the bike first thing. I'm glad to be a part of this journey: around the White Rim, up the towers, and into myself. I felt weak on the bike, but tomorrow I can do my thing!
First tower in the bag. Zack Pitts at the camp under Washerwoman and Monster Towers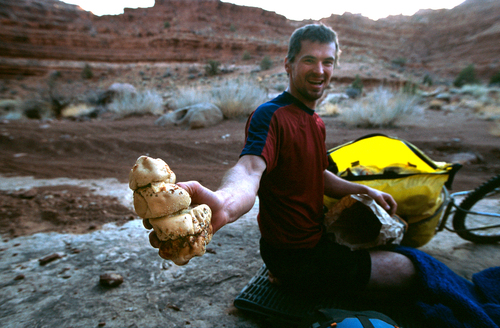 On the second day, we woke up to some beautiful architecture. We were camped in a sandy wash just off the trail, a highway of skin-colored rock dotted with sage, and the surrounding canyon rose around us like a coliseum, with dozens of giant stair steps leading to two 600-foot columns of sandstone, Monster and Washerwoman. We hadn't given too much thought about our exit strategy after a day of storming the towers. Hasty to return to camp after a hard day of climbing, Trent and Chaz had gotten separated. That night the rest of us mulled over how Trent and Chaz might be faring, somewhere in the canyons above, as the rain and temperature fell.
Sunday, March 14:
Zack and Devin, threading the needle on pitch 2 of "In Search of Suds" (5.10+, III), Washerwoman Tower.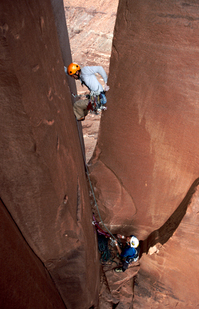 Chaz and Trent on pitch 1 of North Ridge (5.11, III), Monster Tower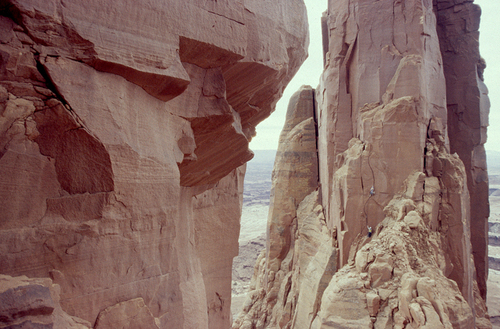 Zack: First climbing day was a total success. Two teams, two towers, two routes. The views were astonishing. One of the best climbing days of its kind for me. Trent and Chaz finished about 1 hour before Devin and I and took off for camp. When we got to camp they were nowhere to be found. It was well after dark when we arrived.
Devin: Badass day of Climbing! Both groups made it up both towers and were able to give beta from one tower to the other. One problem: Chaz and Trent haven't made it back to camp yet...
Tags

:
adventure
,
bush
,
canyonlands
,
cycling
,
desert
,
manpower
,
moab
,
mountain biking
,
mtb
,
obama
,
photography
,
roadless rule
,
rock climbing
,
southwest
,
trad
,
travel
,
utah
,
white rim trail
,
wild
,
wilderness
,
writing
Trackbacks
Comments